The integration of Twilio SMS and MMS capabilities with Zendesk brings you a streamlined communication experience right within the Zendesk user interface. This integration empowers your agents to communicate seamlessly with customers through SMS, delivering both pre-designed and personalized messages, including MMS content, to clients worldwide.
The Twilio SMS for Zendesk extension facilitates seamless SMS/MMS communication right within Zendesk modules.

Effortlessly send and receive SMS directly within the Zendesk platform.

Efficiently manage Bulk SMS within Zendesk Contacts & Organization modules.

Utilize Templated SMS for standardized communication. Create and store unlimited SMS templates enriched with Zendesk fields.

Automated SMS triggered by Zendesk workflow rules.

COMING SOON

Craft personalized messages tailored to your recipients.

Achieve instant in-platform notifications for inbound messages, keeping you promptly informed.

With a user-friendly 1-click installation, no coding skills are required.

The installation process is straightforward and hassle-free.
To get started, install Twilio SMS MMS for Zendesk by OAppS. Click the 'Install Now' link provided:
Twilio SMS MMS for Zendesk
Demo
Step-by-Step Setup Guide: Enabling Twilio SMS for Zendesk
Step 1: Download and install the extension from the marketplace listing.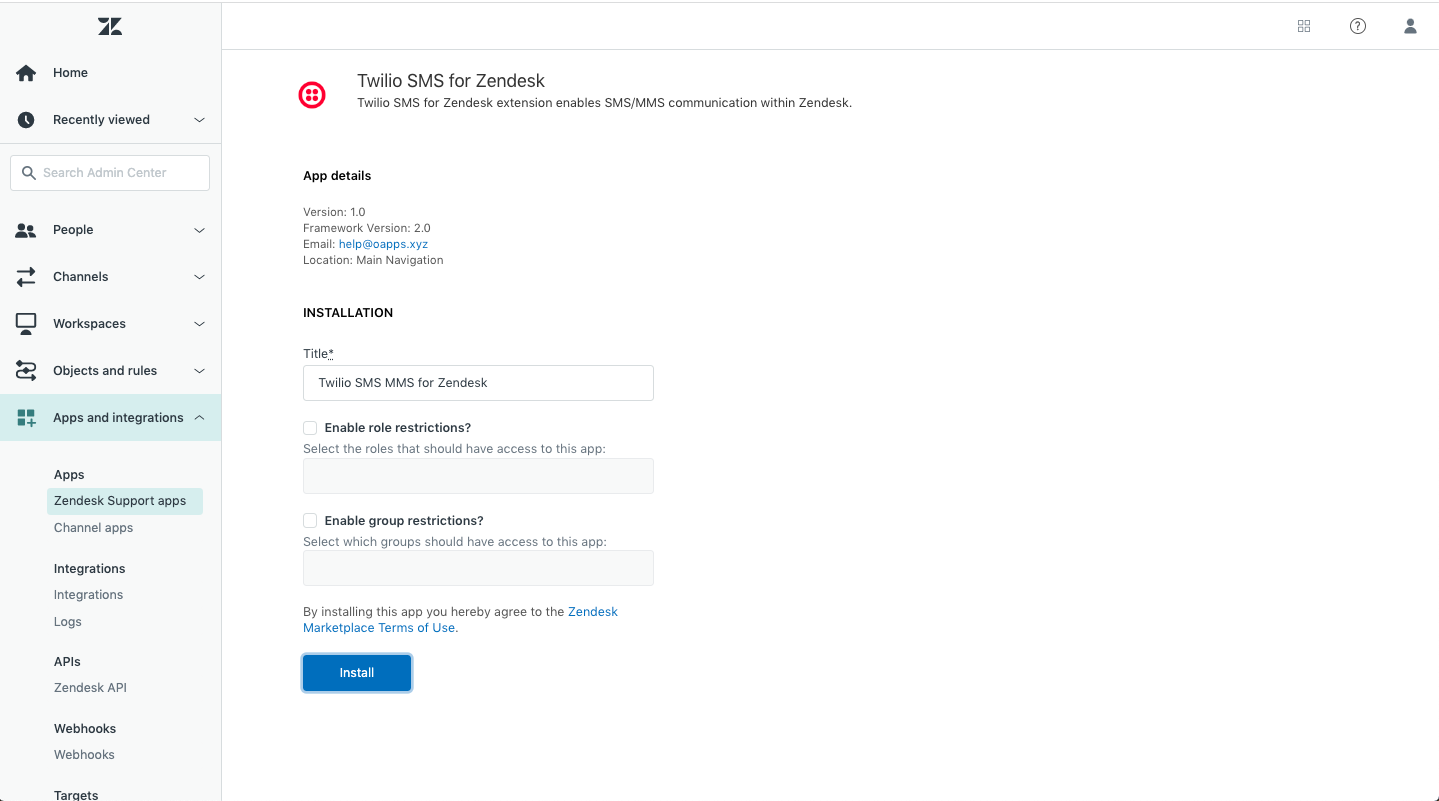 Step 2: Once you have successfully installed the Zendesk Twilio SMS extension, navigate to the home page of Zendesk Support. Locate the 'Twilio SMS MMS for Zendesk by OAppS' button in the Left Navigation Bar, and click on the Twilio icon. This action will take you to the page where you can enable the extension.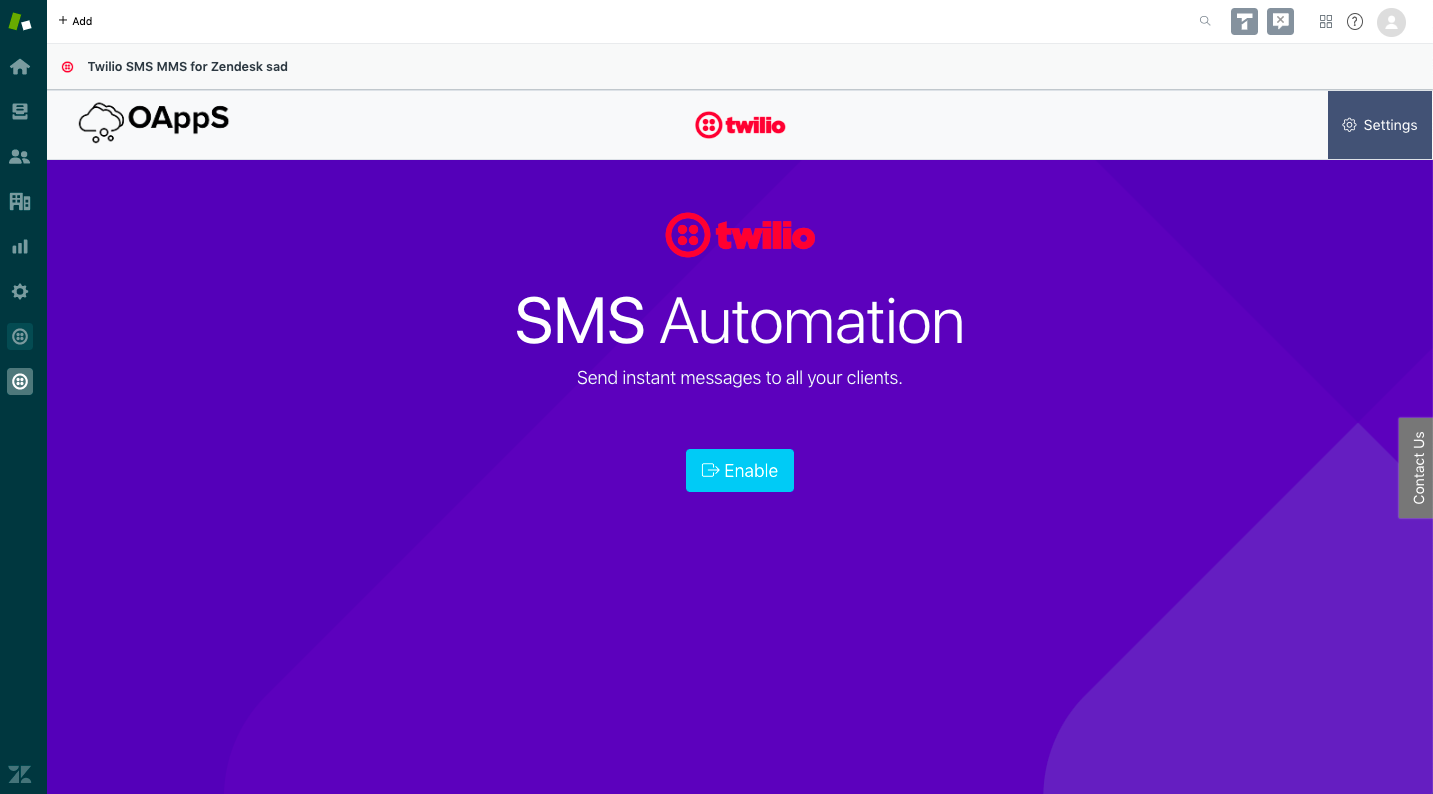 Step 3: Press the 'Enable' button to authorize Zendesk and Twilio services. Upon successful authorization, both services will be labeled as 'Authorized Successfully.'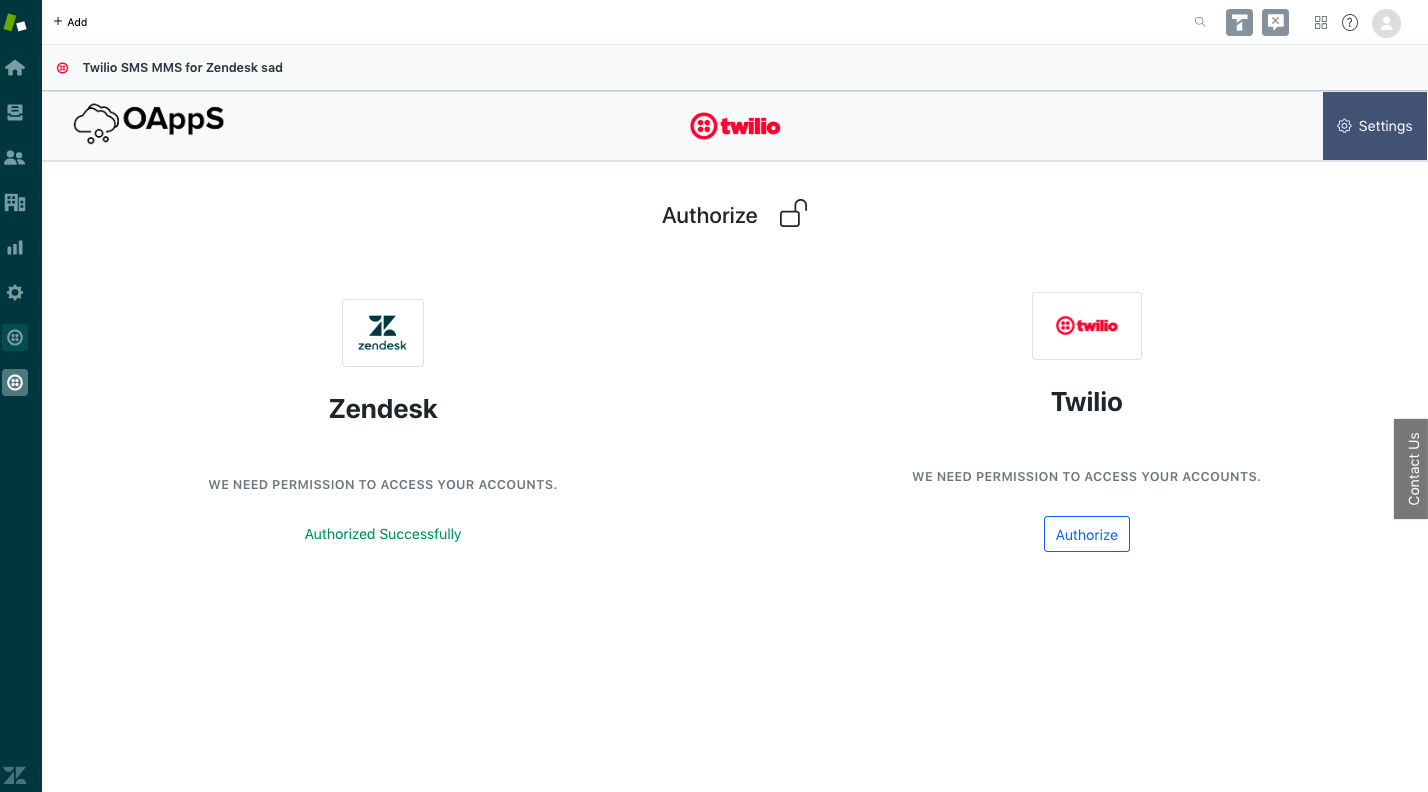 Step 4: Configuring Twilio SMS for Zendesk - Integrating an Account in Channel Integrations:

1 . Click on the Channel App Link,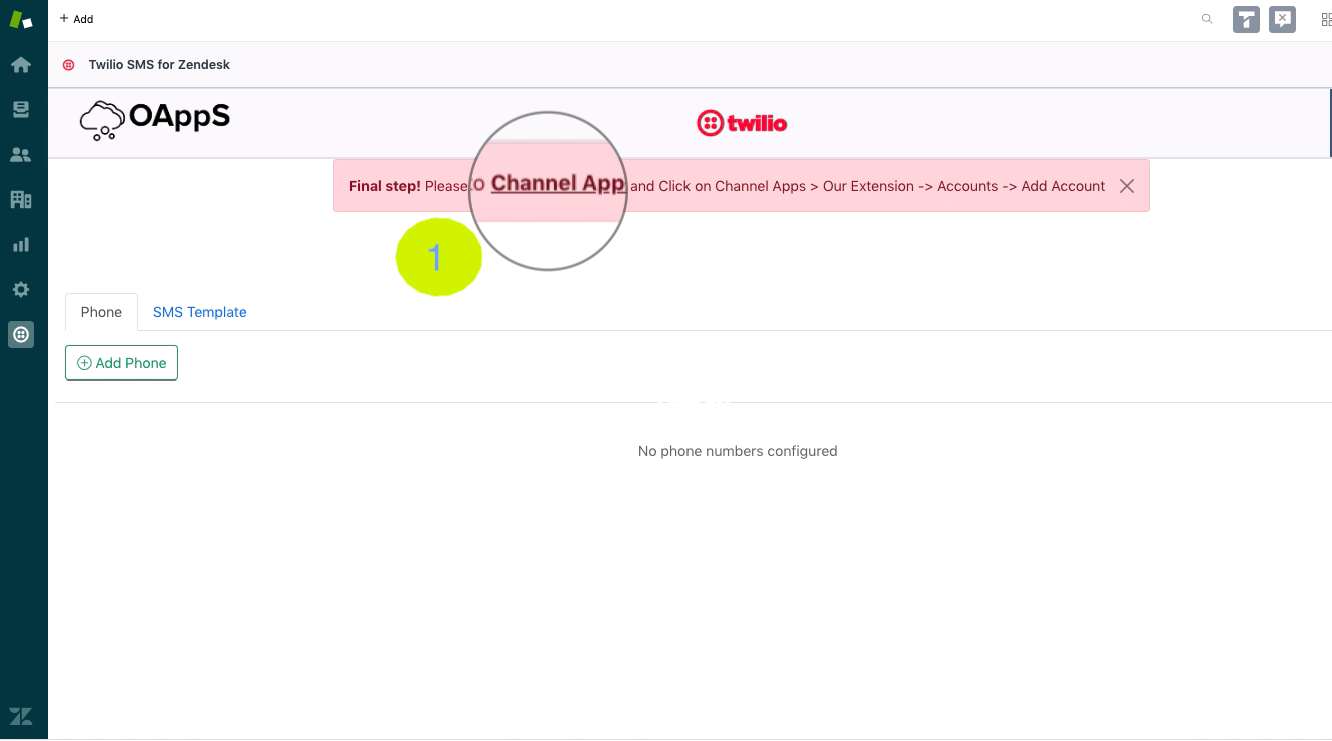 2. Click on the Zendesk -Twilio SMS extension.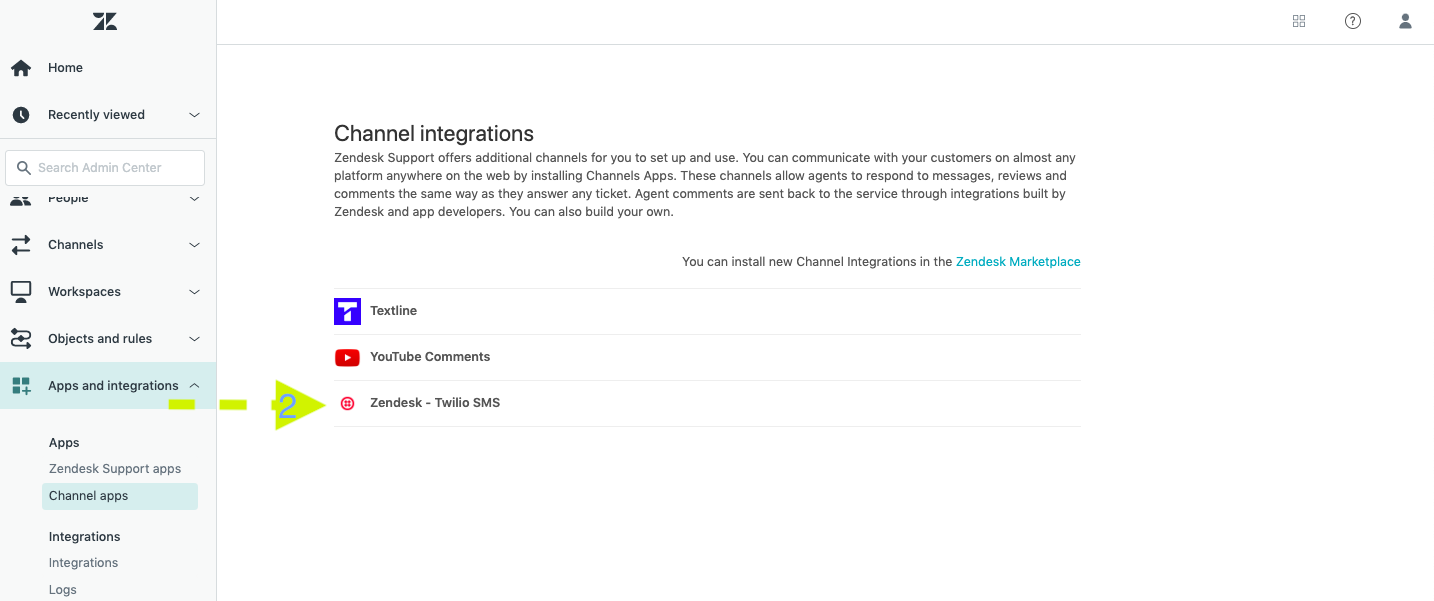 3. Click on Accounts

4. Top right corner click on Add account.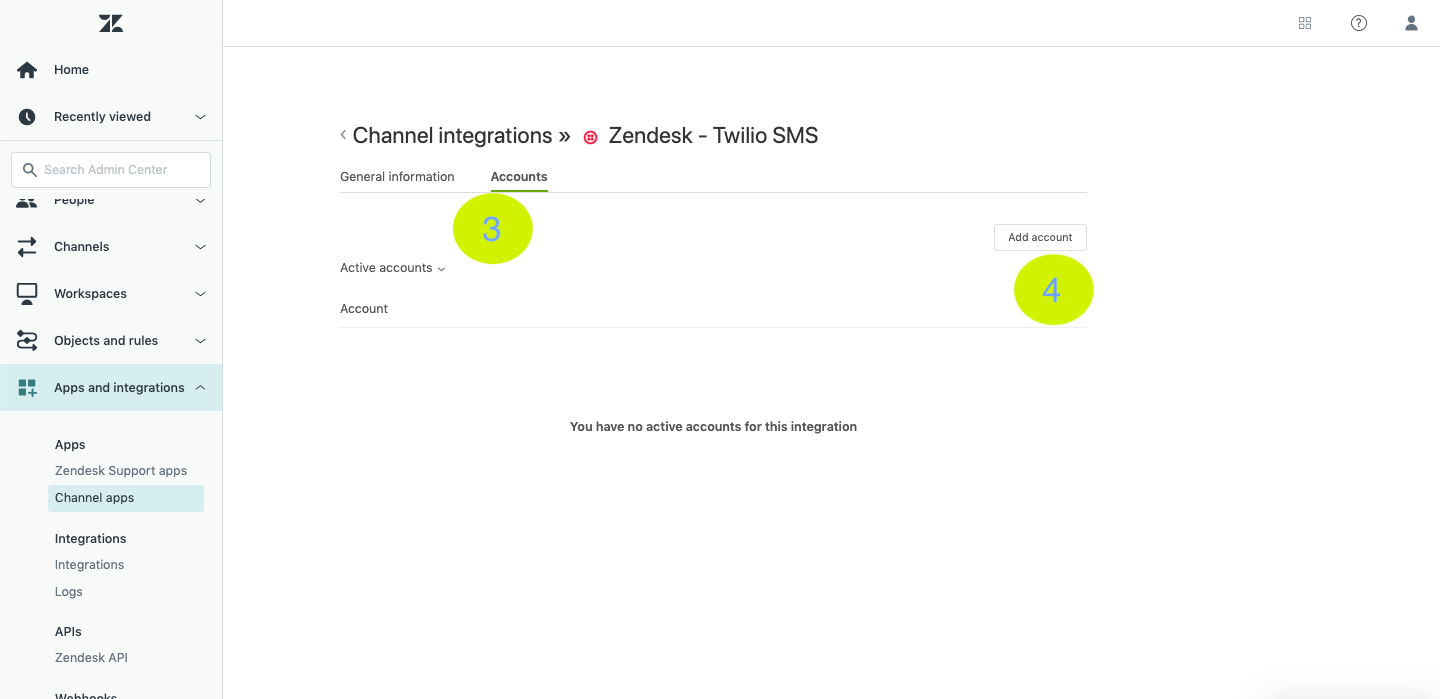 5. With the Channel App Configured, navigate to the Zendesk Support Home page and select the Twilio Icon from the Left Navigation Bar.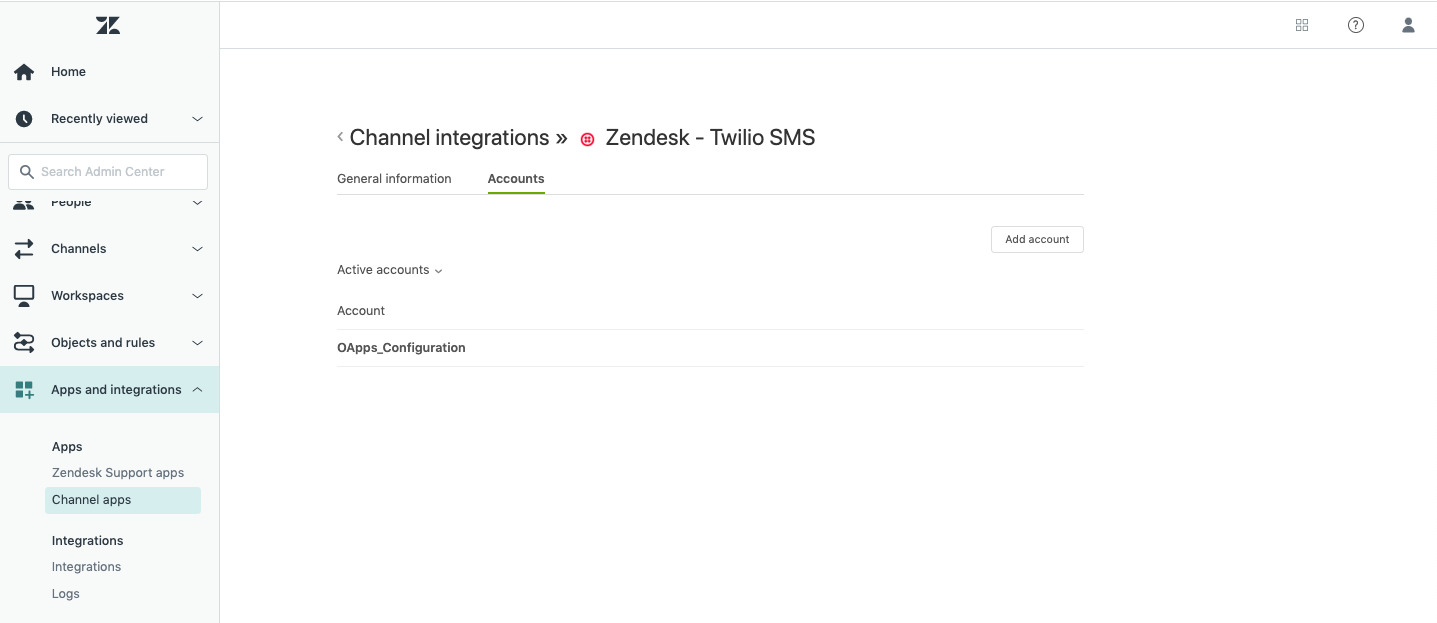 Step 5: Setting Up Phone Numbers in Twilio SMS for Zendesk:

By clicking on the 'Twilio SMS MMS for Zendesk by OAppS' button in the Left Navigation Bar, you will access the OAppS SMS Extension Settings Page.

1. Click on Add Phone Number to Add Phone number.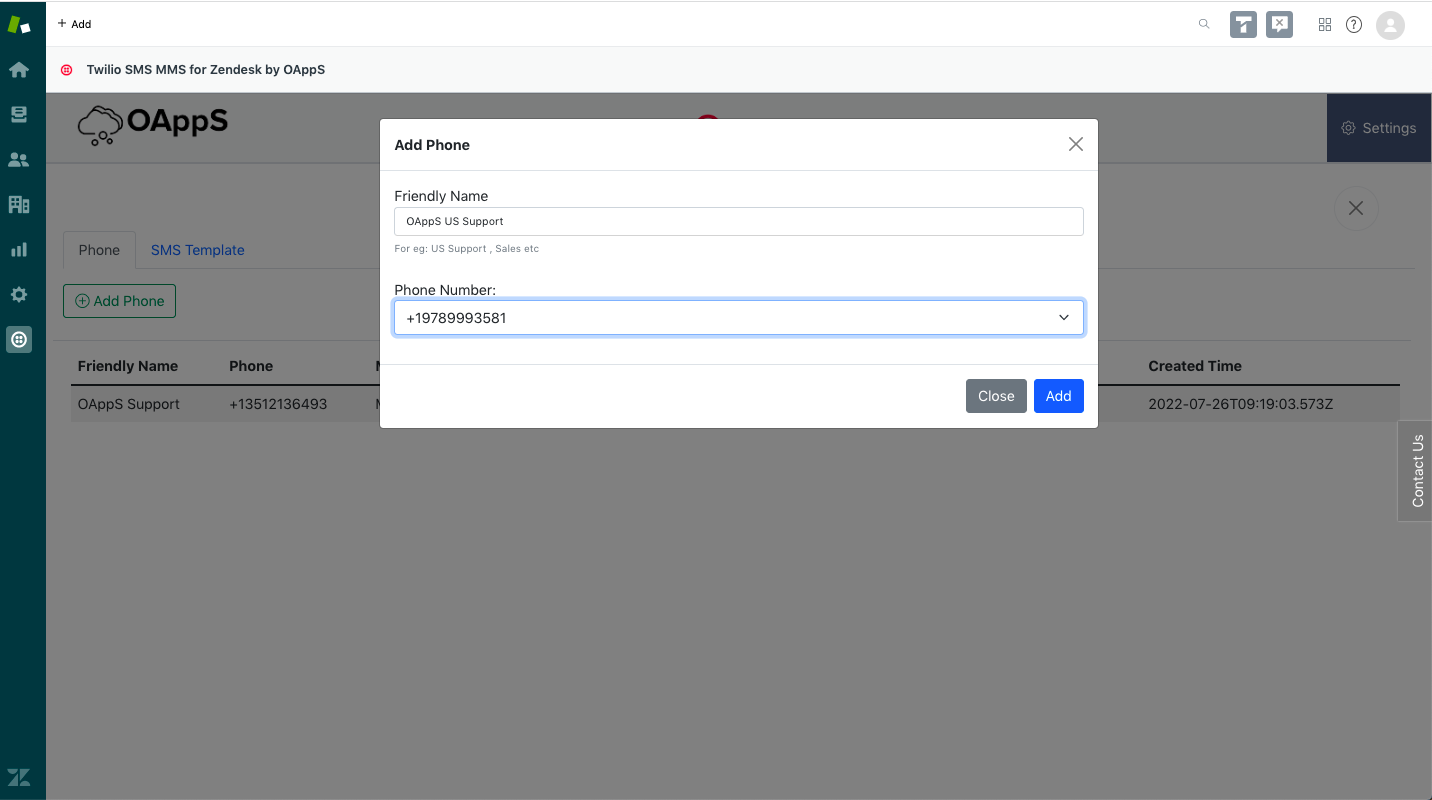 2. Click on the SMS Templates to Add Templates, you can save unlimited templates.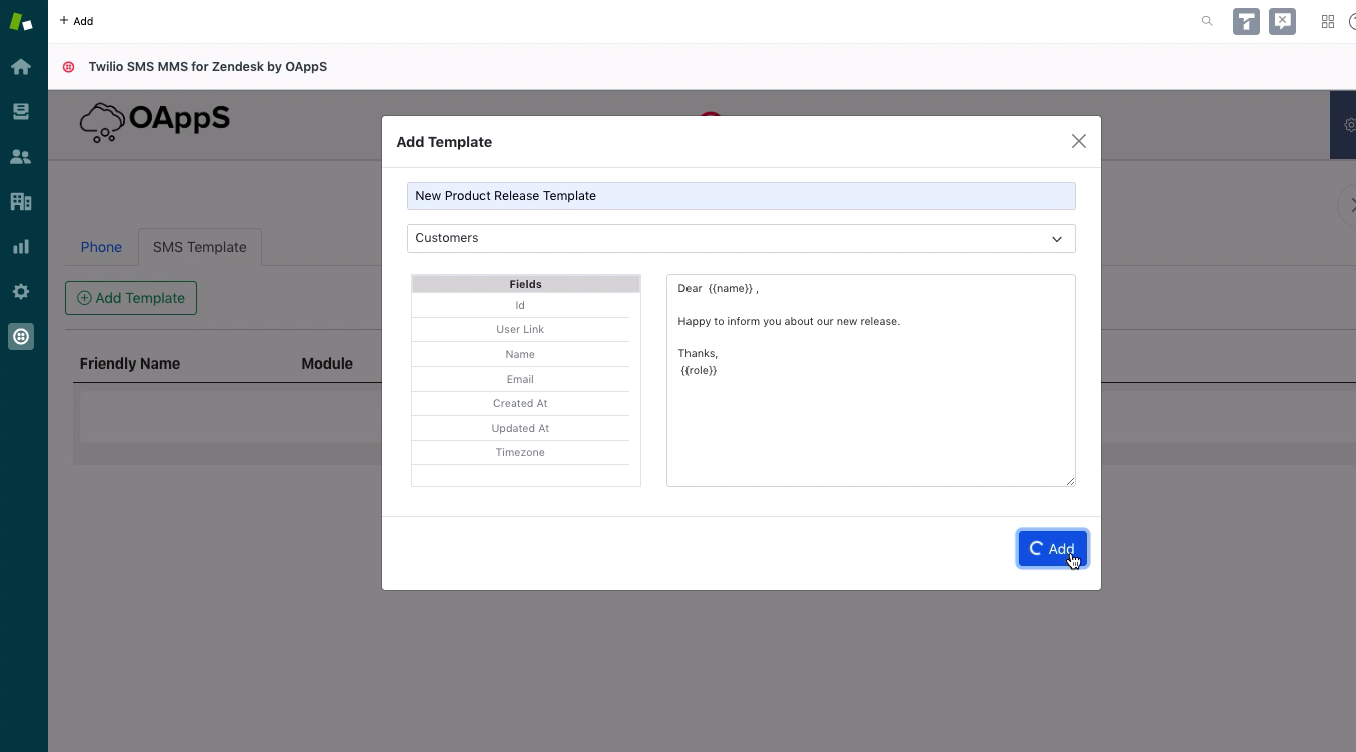 Step 6: Close the Settings window to access the Send SMS / Send Bulk SMS window,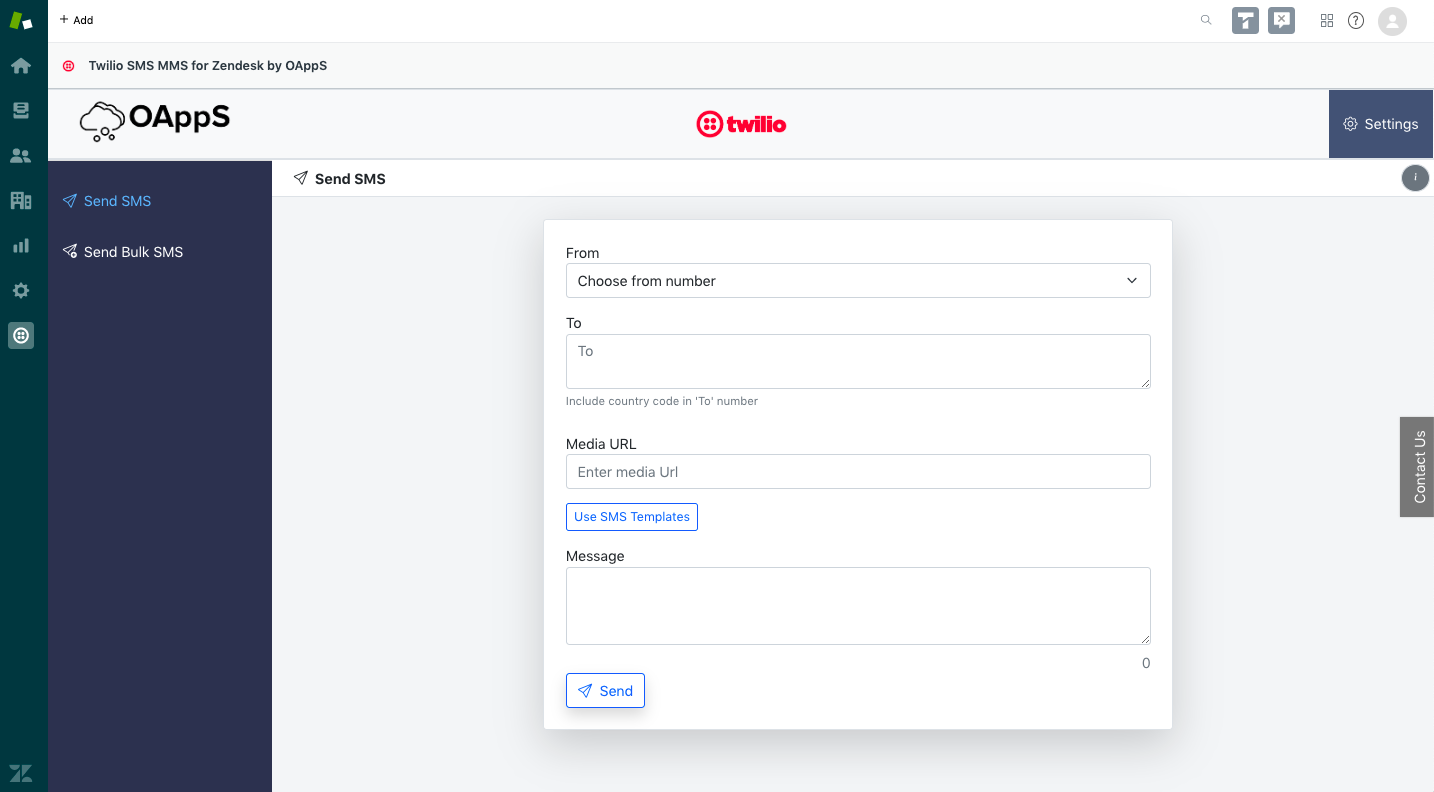 Step 7: Sending an SMS will generate a new ticket or thread within Zendesk Support. You can respond to SMS messages from the ticket view, facilitating two-way communication. Inbound and outbound SMS are both supported.
Step 8: Easily initiate Bulk SMS with just a single click.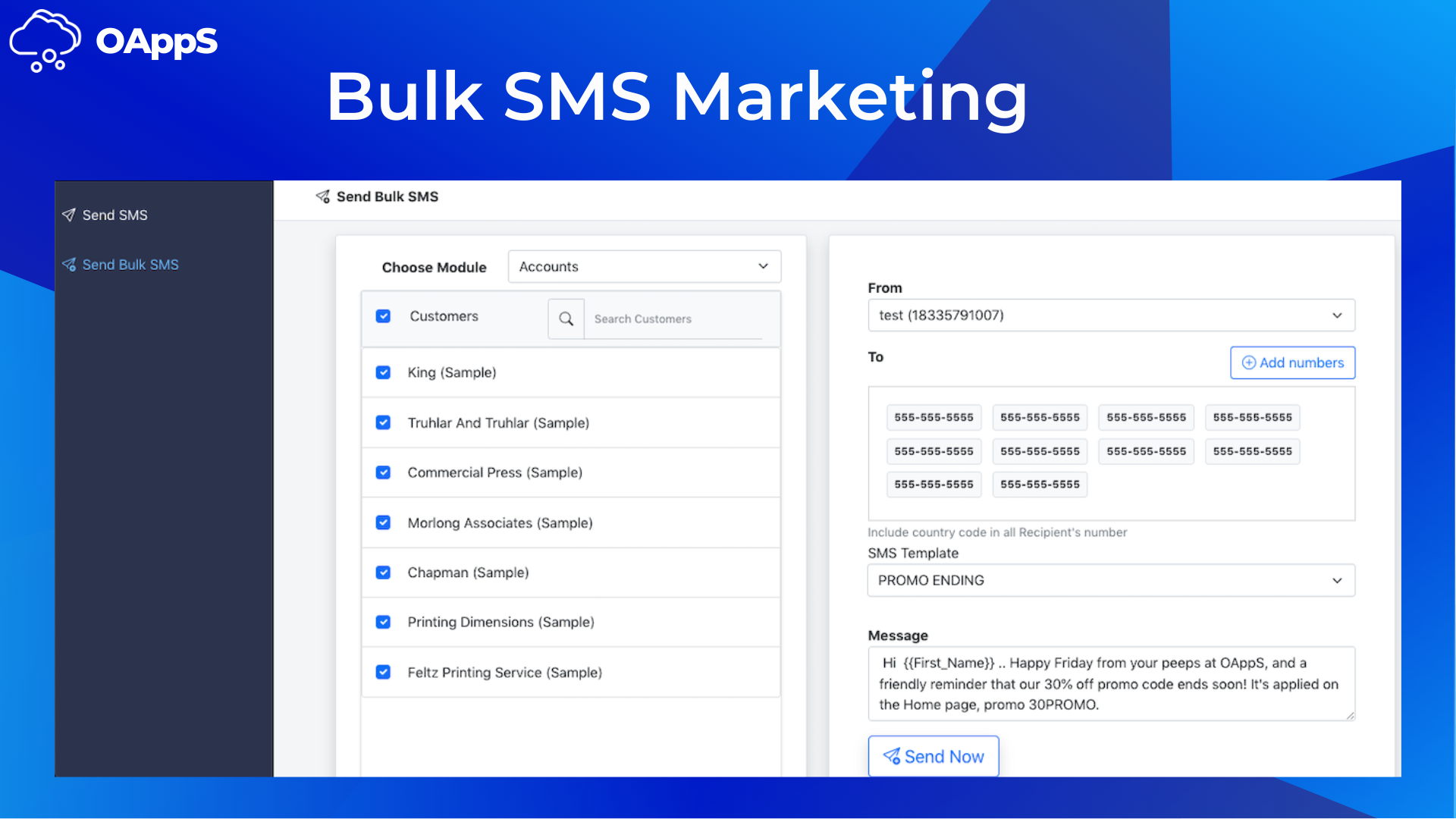 You have now successfully completed the setup process for integrating Twilio SMS with Zendesk. This integration empowers you to communicate seamlessly with your customers through SMS and MMS, enhancing your support capabilities. Should you have any further questions or need assistance, please refer to the provided resources or reach out to our support team assist@oapps.xyz .
Thank you for choosing our Twilio SMS integration for Zendesk!