Zoho Desk - Telnyx SMS Integration
Key Points
SMS and MMS Inbound and Outbound Support

Enjoy unlimited inbound & outbound SMS and MMS messaging services

Hassle free Outbound Messaging

SMS Outbound Message Initiator to message any contact anytime.

Intelligent Processor

AI in creating Tickets or Threads

On-Track system

Instant Acknowledgement Support with customisable Message
---


Prerequisites & Setup
Sign up for a Telnyx account.

Make a note of your API KEY unique to your Telnyx account.

Purchase Telnyx phone number to be used for SMS.

Choose Department where the SMS to be converted as Ticket

Choose channel name as SMS or choose your own name

Choose the Profile to access

Agree Terms and conditions

Click Update

Authorise Zoho Desk and Telnyx account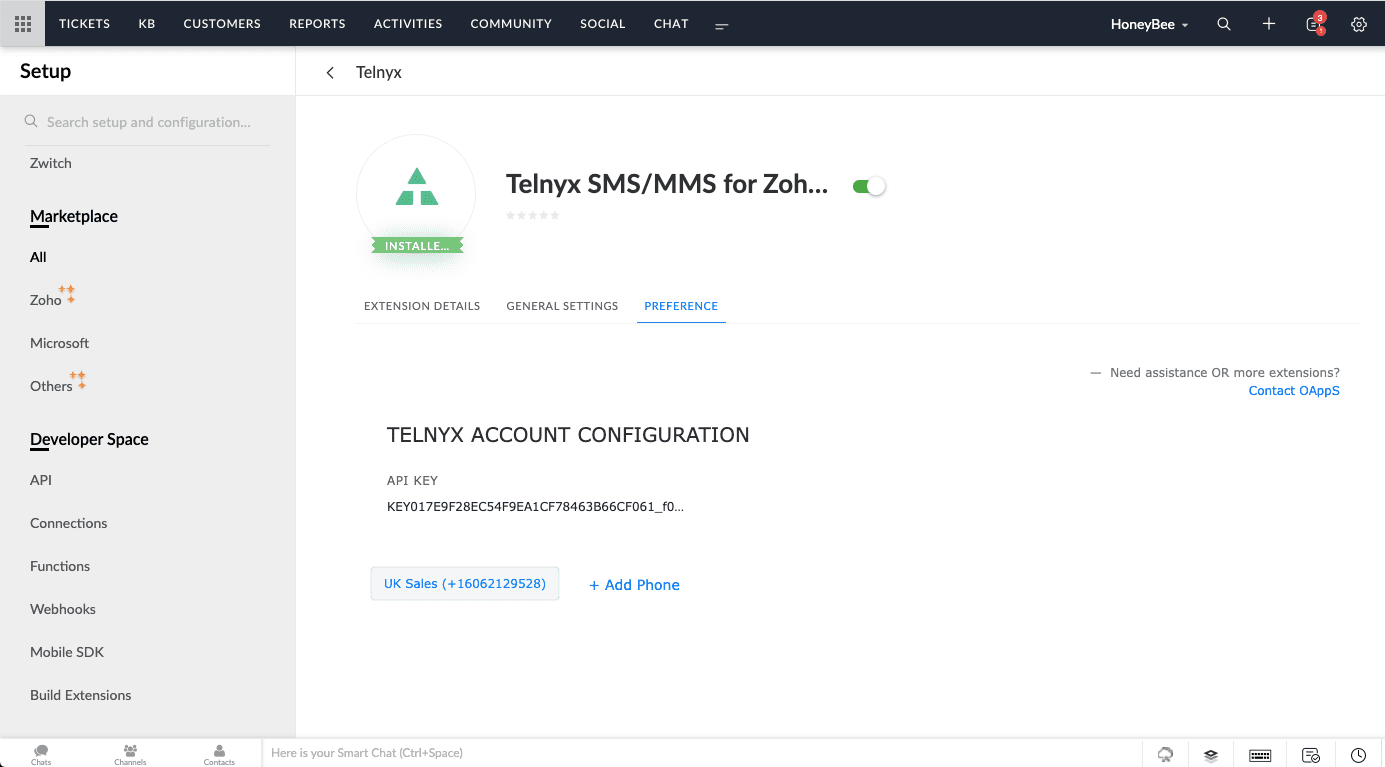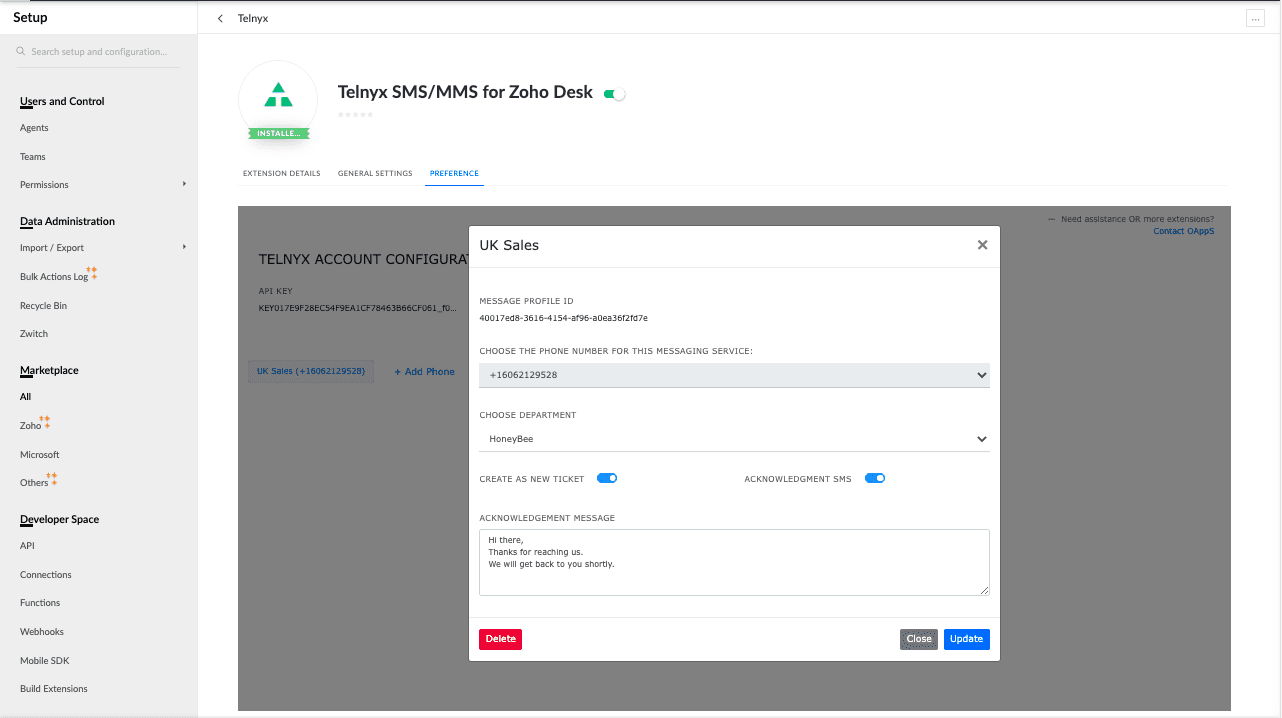 ---
Outbound Initiator & SMS Tickets
Reply can be sent through the editor window from the bottom of your desk page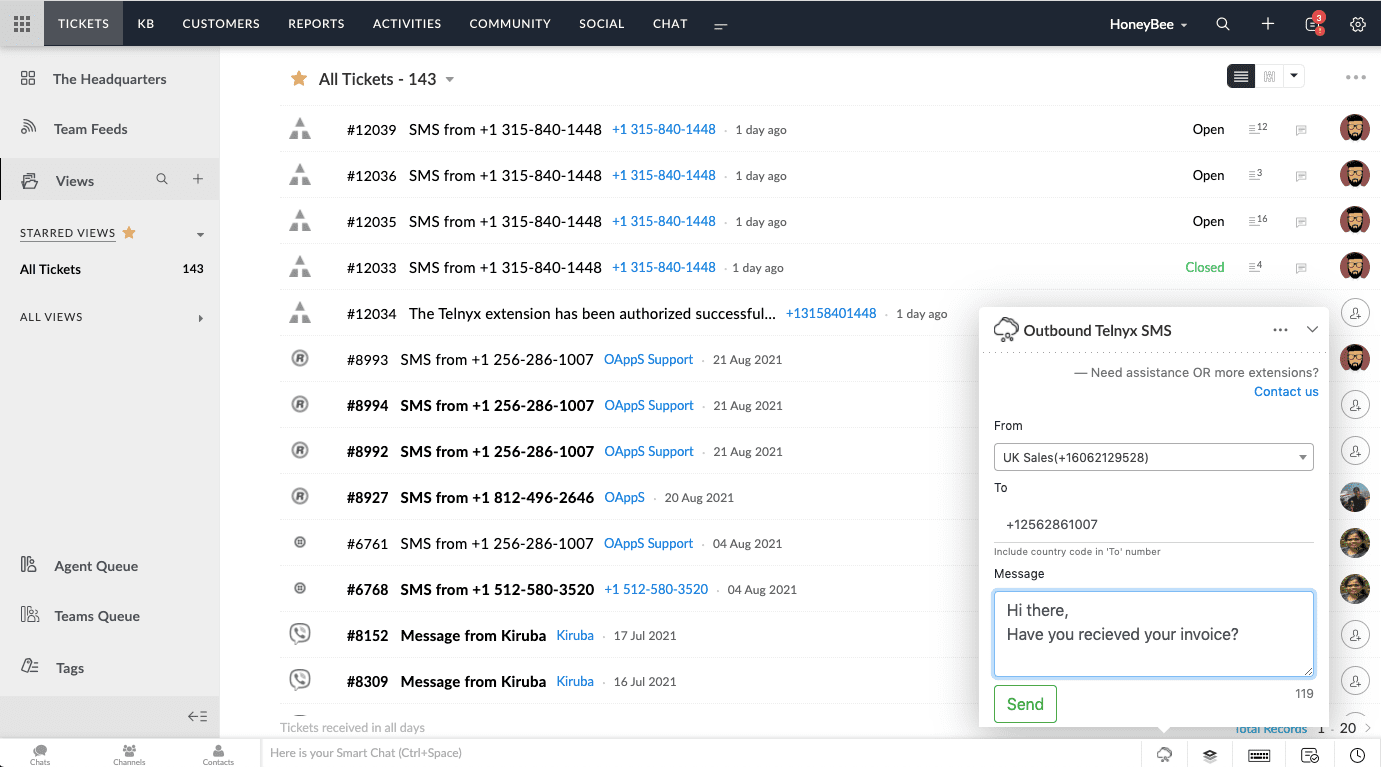 ---
Reply from Right Panel and Reply Editor
1. Reply can be sent through the editor window in the right panel of the ticket detail view page.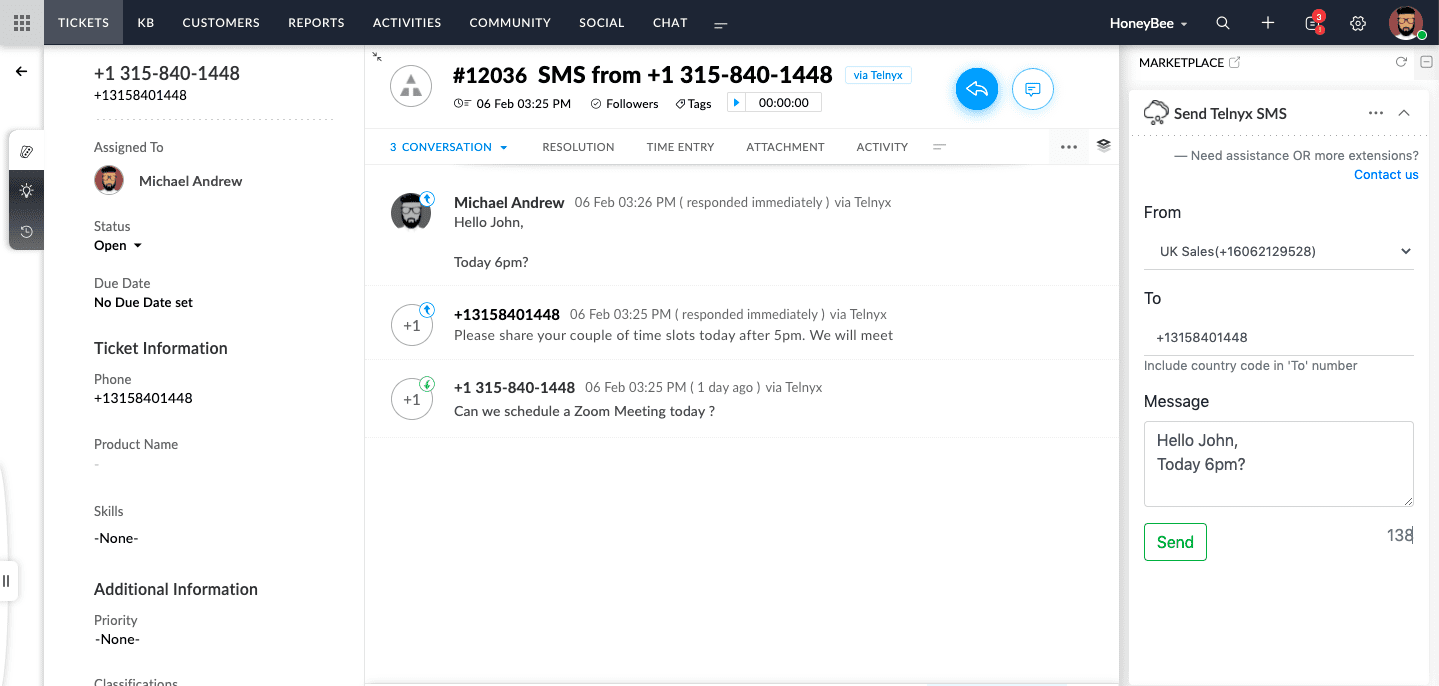 All set go , Explore Telnyx integration and contact us For any support
help@oapps.xyz
Related Articles

Zoho Desk - Twilio SMS MMS Integration

Key Points SMS and MMS Inbound and Outbound Support: Enjoy unlimited inbound & outbound SMS and MMS messaging services. Hassle-free Outbound Messaging: SMS Outbound Message Initiator to message any contact anytime. Intelligent Processor: AI in ...

Zoho CRM - Telnyx SMS Integration

Key Points Easily connect: Easily connect Telnyx inside Zoho CRM. Telnyx SMS communication: Enable the Telnyx SMS communication without leaving the ZohoCRM page. Automatically loads: Automatically loads contact data into Telnyx Send SMS form. ...

Pipedrive-Telnyx SMS Integration

Key Points Easy SMS Receive and send SMS text just in a few clicks. Record History Text logs are recorded under notes. Individual Messaging SMS sent from all Deals, Contacts, Organisation modules. Acknowledgments Get instant delivery reports. ...

Telnyx SMS for Zendesk

By integrating Telnyx SMS MMS with Zendesk, you will benefit from the following, Telnyx SMS for Zendesk extension enables SMS/MMS communication within Zendesk modules. Inbound / Outbound SMS Support. Send and Receive SMS within Zendesk Bulk SMS ...

Viber Chatbot for Zoho Desk

Key Points SMS and MMS messaging SMS and MMS Inbound and Outbound Support Tickets and threads concepts Tickets and threads concepts implementation for SMS/MMS Incoming messages Incoming messages will be created as new tickets inside Zoho Desk Viber ...