Phone Verifier for Zoho CRM
Key Points
Validate the number :

Validate the Phone number on one click.

Intuitive UI:

Intuitive UI representation

Valid Format:

Phone number validation for correct

format number.

Extra Info:

Defines and sets the Country field by

phone number.
---


Setting Up
1. Install the plugin from Zoho CRM Marketplace listings
2. Authorize ZohoCRM Service.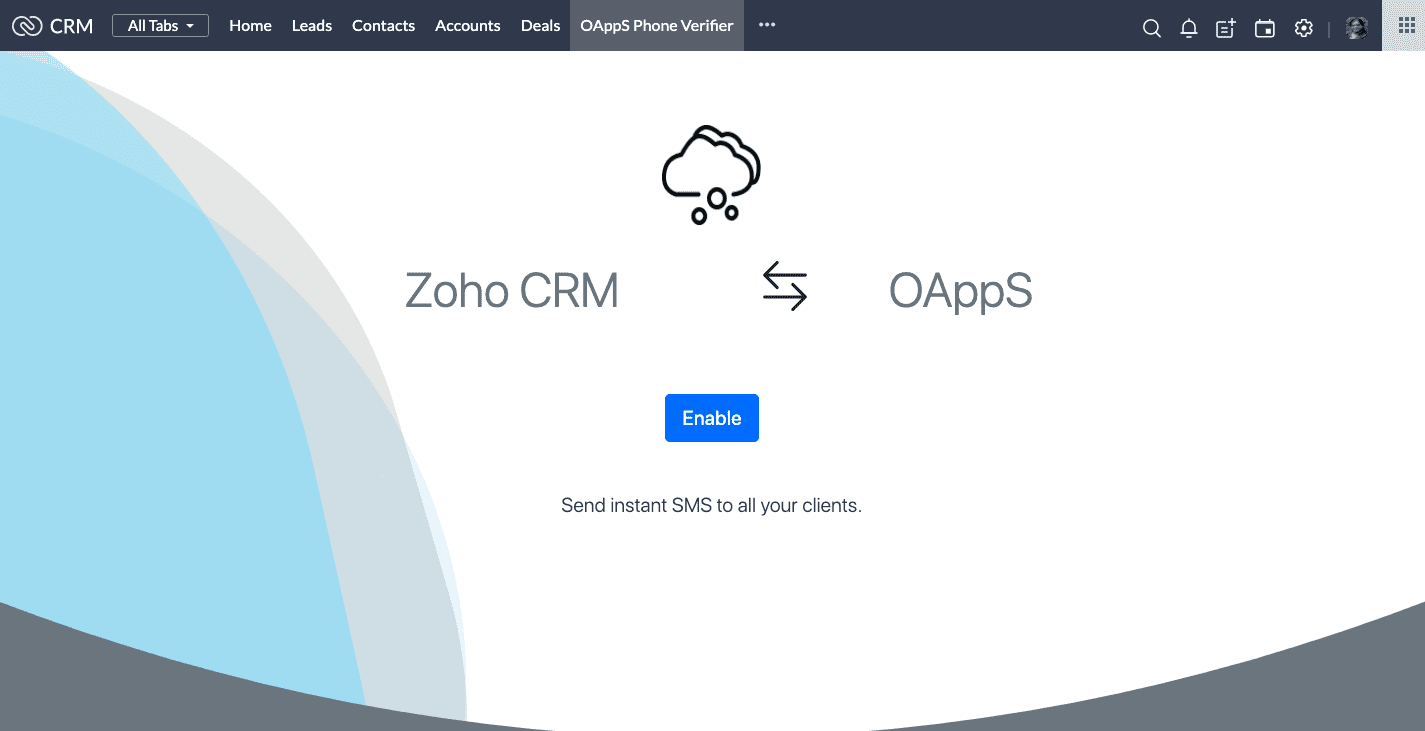 ---
Phone Verifier Button
1. Click on the Phone Verifier Button, to know the Phone number authenticity.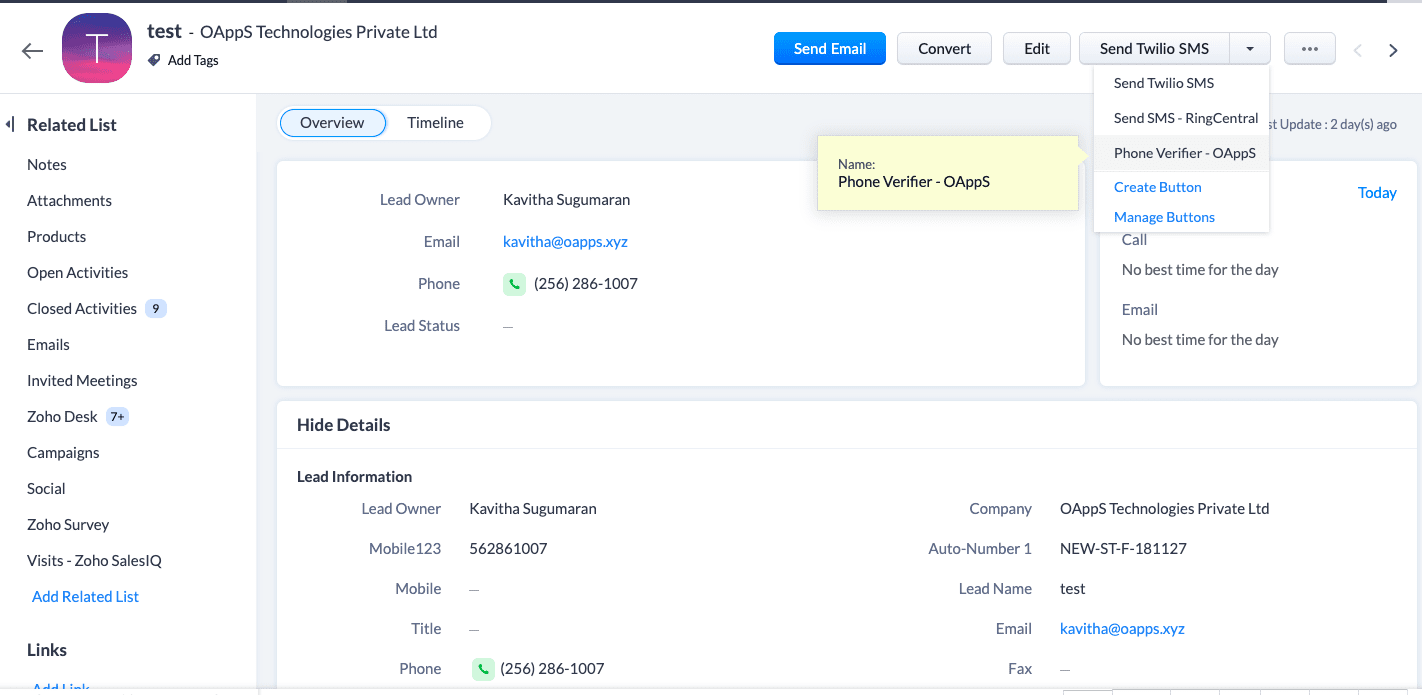 ---
Authenticity Report
1. This extension automatically verifies the authenticity of phone numbers.
2. The extension works with the standard Zoho CRM modules.
3. An easy one click Phone Verifier.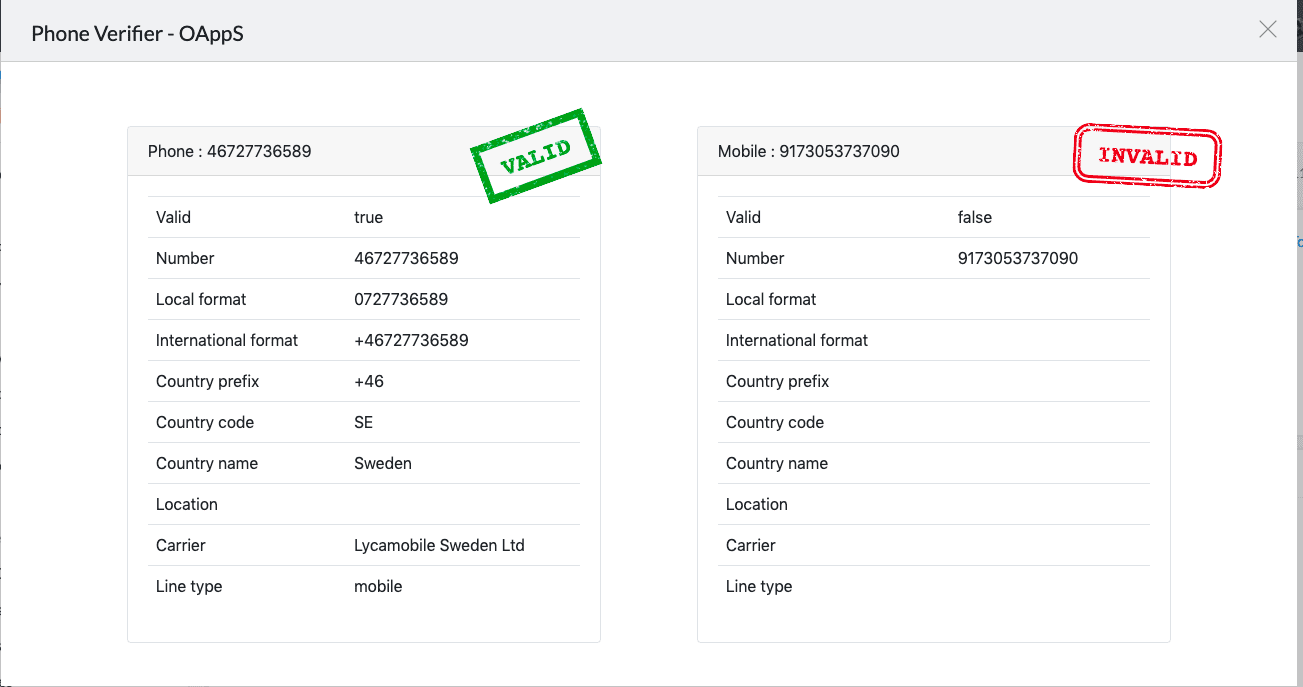 ---
1. Send SMS -Phone Verifier - OAppS button will be actionable in List View Page/Detail View Page and Record View Page in all Leads/Accounts/Deals/Contacts module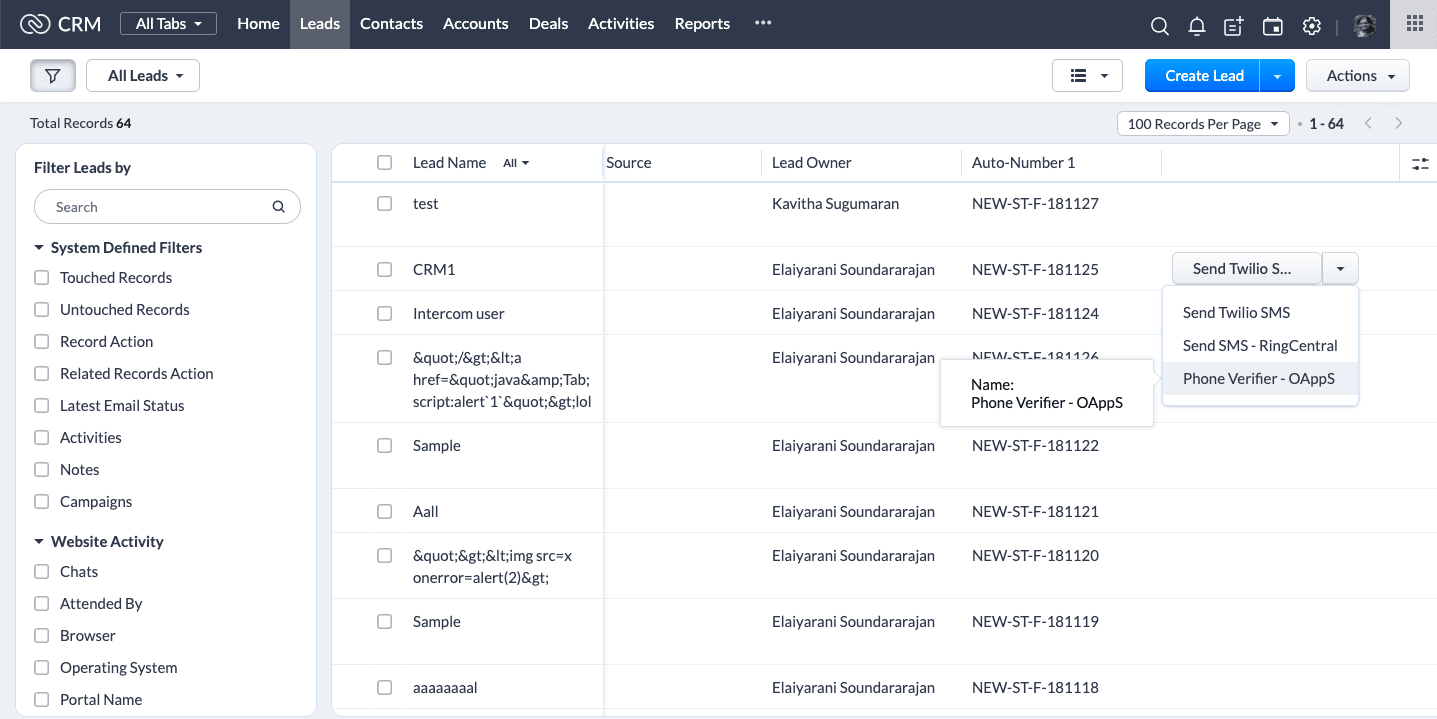 All set go , Expl
ore
Phone Verifier- Zoho CRM
I
ntegration and contact us For any support
help@oapps.xyz
Related Articles

Zoho CRM - Twilio WhatsApp Integration

Key Points Auto-mapping: Send and receive WhatsApp messages to Contacts, Leads and Accounts modules. Multiple Number: Configure multiple number. Conversational View: Track the conversation history in Conversational view. Languages Supported: Native ...

Zoho CRM - Telnyx SMS Integration

Key Points Easily connect: Easily connect Telnyx inside Zoho CRM. Telnyx SMS communication: Enable the Telnyx SMS communication without leaving the ZohoCRM page. Automatically loads: Automatically loads contact data into Telnyx Send SMS form. ...

Plivo SMS for Zoho CRM

Plivo SMS for Zoho CRM Plivo SMS for Zoho CRM extension enables SMS/MMS communication within Zoho CRM modules. Inbound / Outbound SMS Support. Send and Receive SMS within Zoho CRM Bulk SMS Support for Zoho CRM default and custom modules. Send ...

RingCentral for Zoho CRM

Key Points Easy SMS: Type and send SMS text just in few clicks. Bulk SMS options: Send Bulk SMS messages to Leads and Contacts Record-keeping: Text logs are recorded under activities Acknowledgments: Get instant delivery reports. Install Now ​ Step 1 ...

RingCentral SMS for Zoho CRM

Instantly send SMS messages using both Templated and customized SMS. Write workflows with webhooks to send automated SMS messages to clients. Get notified in Zoho CRM when you receive a text message to your RingCentral number, and maintain an SMS ...